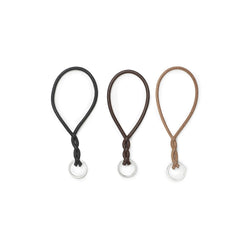 Total length: 18 cm
Ring diameter: 3 cm
Colour: black, brow, natural
Braided key hanger made of 5 mm cow leather cord with steel ring.
SEJR accessories are manufactured in our workshop in Denmark.
Maintenance / Care instructions:
Leather is a natural material and should be handled with care. Avoid water on the leather. Since the leather is aniline dyed, a slight discoloration might occur on rare occasions. Treat leather regularly with a leather care product.