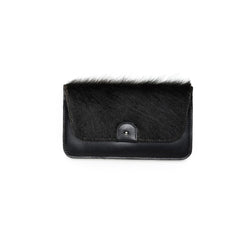 Size: 18 x 10 x 1 cm
Color: black

This wallet fits an iPhone 6 PLUS and can also serve as a small clutch.
Details:
Wallet made of cow fur and saddle leather. No lining. Screw in rivet for closure.
Contains one internal zip pocket (YKK) and two open pockets with 3 card pockets.
Maintenance / Care instructions:
Leather is a natural material and should be treated with care. Avoid exposing the leather to water as much as possible. This helps prevent the slight discoloration that might occur on rare occasions. 

Fur can be carefully treated with steam. It will give new life to the fur. To protect the leather, it is recommended to regularly treat with a leather care product. This will improve the leather's resistance to moisture and dirt and thereby prolong the life of your SEJR item.