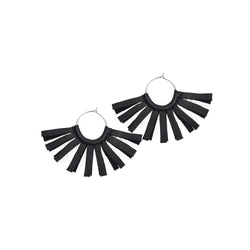 Total size: 45 x 70 mm
Diameter silver ring: 25 mm 
Diameter silver wire: 0,9 mm 
Color: black

Earrings made of reindeer leather and sterling silver. 
Come as a pair. The earrings are made in our workshop in Denmark.
The earrings come in a black box made of recycled cardboard. The box is produced in Denmark.
Maintenance / Care Instructions:
Leather is a natural material and should be treated with care. Avoid exposing the leather to water as much as possible. This helps prevent the slight discoloration that might occur on rare occasions.