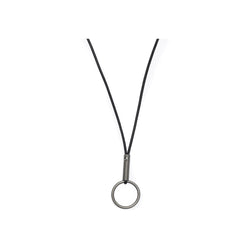 FREJ eyewear holder, small
Length: 70 cm
Diameter of titanium spiral: 7 mm
Functional pendant in titanium and leather cord that suits both men and women.
FREJ eyeglass holder comes in two sizes in mat titanium with black leather.
Comes in a black box made of recycled cardboard. The box is produced in Denmark.
Maintenance / Care instructions:
Leather is a natural material and should be treated with care. Avoid exposing the leather to water as much as possible. This helps prevent the slight discoloration that might occur on rare occasions. 

Titanium is a non-allergenic metal that does not require polishing.