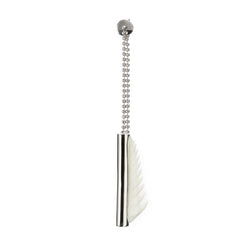 Total length: 75 mm 
Diameter titanium wire: 0,9 mm
Color: white
Description: 
Unique stud earring made of shark tooth with a ball chain in polished titanium. Comes on its own (not in a pair).
The stud earring comes in a black box made of recycled cardboard. The box is produced in Denmark.
Due to the special surface of the shark tooth no care is needed.
Titanium is a non-allergenic metal and does not require polishing.