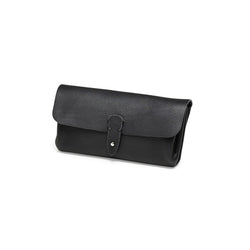 Size: 20 x 10 x 3,5 cm
Color: black
Purse made of thick cow leather. No lining. Screw in rivet for closure.
Purse contains two internal zip pockets (YKK) and three open pockets with 6 card pockets. 
Comes with a black cotton bag for storage.
Maintenance/Care Instructions:
Leather is a natural material and should be handled with care. Avoid water on the leather. Since the leather is aniline dyed, a slight discoloration might occur on your skin on rare occasions. Treat leather regularly with a leather care product.
To protect the leather, it is recommended to regularly treat with the enclosed care product or a similar product. This will improve the leather's resistance to moisture and dirt and thereby prolong the life of your SEJR product.