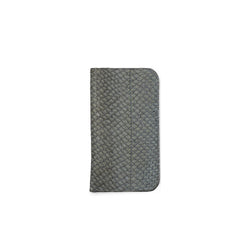 LIBERTY iPhone cover, green
Size: 8 x 17,5 x 0,7 cm
Color: green / black
Iphone cover made of salmon skin and cow leather.
Fits iPhone 5 and 6.
Fish skin is one of the strongest and most expensive leathers. We use skin from salmon, sourced in Iceland and Ireland. Not under threat of extinction, these graceful and protein-rich fish are used for food – we simply put their skins to good use.
SEJR fish skin accessories are manufactured in our workshop in Denmark.
Maintenance / Care instructions:
Leather is a natural material and should be treated with care. Avoid exposing the leather to water as much as possible. This helps prevent the slight discoloration that might occur on rare occasions. 

To protect the cow leather, it is recommended to regularly treat with a leather care product. Due to the special surface of salmon leather no care is needed.