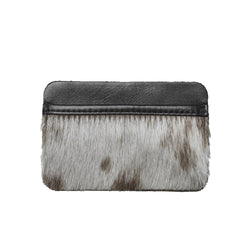 LIBERTY cardholder, seal fur, natural
Size: 6,5 x 9,8 cm
Color: natural / black
Cardholder with two rooms made of seal fur and cow leather.
Sealskin used in our products is from a sustainable Inuit source and imported to EU from Greenland according to regulations.
SEJR accessories are manufactured in our workshop in Denmark.
Maintenance / Care instructions:
Leather is a natural material and should be treated with care. Avoid exposing the leather to water as much as possible. This helps prevent the slight discoloration that might occur on rare occasions. 

To protect the leather, it is recommended to regularly treat with a leather care product. Seal fur can be carefully treated with steam. It will give new life to the fur.