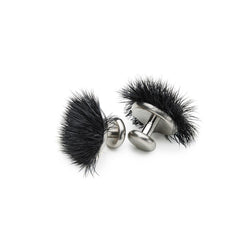 HANS cufflinks, seal, large
Diameter top: 20 mm
Diameter bottom: 11 mm
Length: 18 mm
Cufflinks made of seal fur and mat titanium. 
Sealskin used in our products is from a sustainable Inuit source and imported to EU from Greenland according to regulations.

The cufflinks come in pairs. 

Our jewelry come in a black box made of recycled cardboard. The box is made in Denmark.
Maintenance / Care instructions:
Seal fur is a natural material and should be treated with care. Avoid exposing the fur to water as much as possible. 
Fur can be carefully treated with steam. It will give new life to the fur.
Titanium is a non-allergenic metal and does not require polishing.