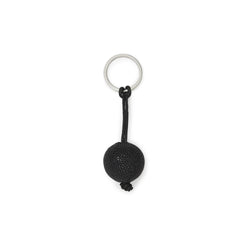 Ball diameter: 33 mm
Ring diameter: 30 mm
Color: black
Ball shaped stingray key hanger with cow leather string and steel ring.
SEJR Stingray accessories are manufactured in our workshop in Denmark.
Maintenance / Care instructions:
Leather is a natural material and should be treated with care. Avoid exposing the leather to water as much as possible. This helps prevent the slight discoloration that might occur on rare occasions. 

To protect the cow leather, it is recommended to regularly treat with a leather care product. Due to the special surface of stingray leather no care is needed.