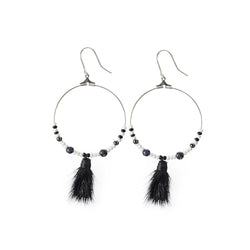 Total measurements: 40 x 85 mm
Diameter silver ring: 40 mm
Diameter ear hook: 0,8 mm
Color: black
Silver earrings with seal fur, glass pearls and natural stones. The earrings were designed for an exhibition at the National Museum about the former Danish colonies.
Details:
Certified seal fur, pearls in natural stones (including hematite, jaspis, malachite ) and glass pearls. The ear hook is made of sterling silver. 
The earrings come in pairs.
The earrings are delivered in a black box made of recycled cardboard. The box is made in Denmark.